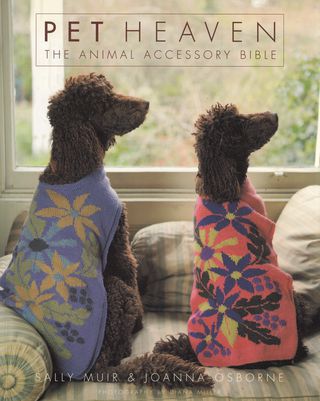 Knygą Pet Heaven. The Animal Accesory Bible
Išleista: 2007
Puslapiai: 144
ISBN: 9781844005192
Formatas: 20 x 25 cm, minkšti viršeliai
Kalba: Lietuvių
Trumpas knygos Pet Heaven. The Animal Accesory Bible aprašymas
Those of us with pets know that we can often love our furry and feathered friends more than our families and now there is a new way to focus our obsession. Whether you want to stitch for your bitch or purl for your persian, "Pet Heaven" contains a host of imaginative and witty designs to celebrate your pet passion.
Acclaimed knitwear designers Sally Muir and Joanna Osborne grew up with a multitude of animals and were encouraged to knit from an early age. In this, their first book, they have combined their two loves to create a unique and humorous collection of designs.
Suitable for both beginner and more experienced knitters, the projects range from a personalised patchwork blanket for a cherished pony, to an edible hammock for a pampered guinea pig and a papoose for carrying around a kitten or miniature dog. Throughout the book there are specific designs for different animals, although many of the designs can be adapted to suit the reader's pet. And for those who don't have an animal – why not knit yourself a pet?